Downloading
The iconik Agent provides a better experience when downloading assets and collections from iconik than the normal web download in the browser. It is also the only way to download collection trees or large amounts of files.
Downloads can be paused and resumed and they are persisted between application launches so that if the Agent is closed or suspended for some reason the downloads will resume where they were when the Agent is launched again.
The Download View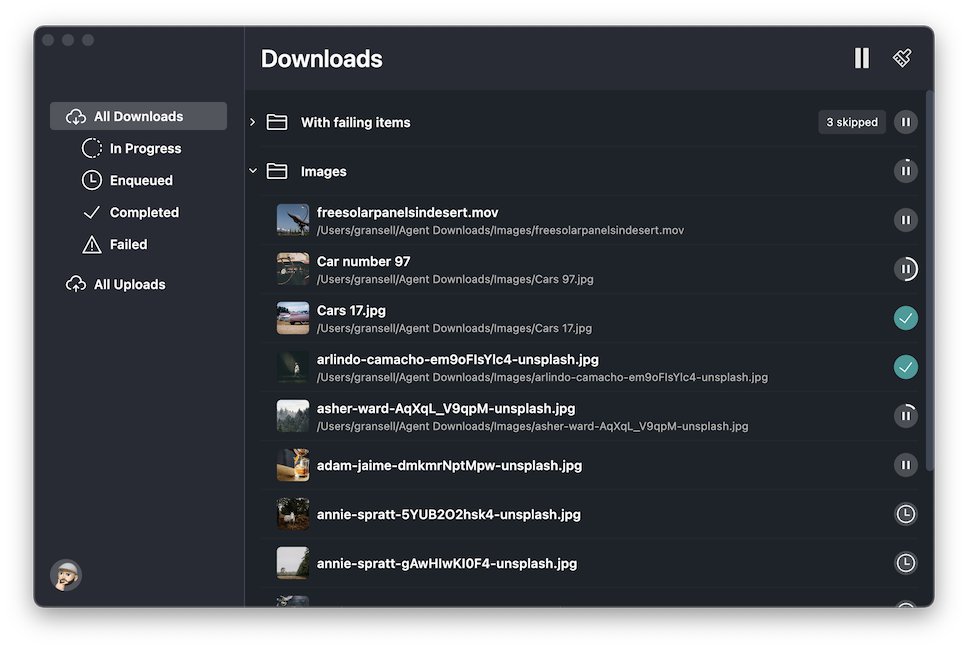 The download view shows a list of downloading assets. Each asset shows it's corresponding keyframe, it's title, an optional failure status as well as the current state along with progress. If the download has started it will also display the path the asset is downloading to on the local system. Below is a list of states that a download can have along with the indication in the list.
Enqueued
Downloading
Paused
Failed
Completed
Starting a Download
Downloads are started from the web interface using a web browser.
Before starting a download make sure that the Agent is running.
When selecting the download action, iconik will automatically start the download using the Agent if the Agent is running. If the Agent is not running, the web browser will be used to perform the download.
Downloading Assets
Use the download action to start downloading an asset. Either from the context menu in the search result or from the action menu on the asset page.
Downloading Collections
With the Agent it is possible to download whole collections and keep the collection hierarchy on the local system. Sub collections will be added as sub folders on the local system. To start a collection download use the download action. Either in the context menu when right clicking a collection in the collection panel or in the search results. You can also use the download item in the action menu when displaying a collection.
Pause/Resume Downloads
A running download can be paused at any time and later resumed but pressing the pause/play button

/

. When downloads are resumed they will start at the point where they were paused and no extra data will be downloaded. It's also possible to pause and resume an entire collection download in which case all asset downloads in that collection and it's sub collections will be paused.
Retry a Failed Download
Downloads that have failed will get a failure status displayed along with a retry button. If the failure indicates something temporary the download can be retried.
Cancel/Clear a Download
A download can be cancelled/cleared form the list in any state either by clicking the cancel

button which appears on an item when hovering over it with the mouse. Or by selecting one or more downloads, right clicking and selecting Remove from the menu. If the download has completed it will just be cleared from the list. If the download has been partially completed the partial files will be removed as well.
Learn more