First Steps with Adobe Integrations
The following guide will show the basics of how to use the panel.
Opening the Panel
After you have installed the panel:
Open the supported Adobe Application of your choice.
If needed create a new project.
From the Window Menu choose Extension or Extensions (legacy) and then choose iconik.
You are then free to move the panel as any other panel in an Adobe Application.
Resizing the panel with switch to a compact view for small panels to a large view.
Logging in
When you open the panel in the Adobe application and you are not logged in you will be presented by the Sign in screen. To login click on Sign In.
This will open your web browser with iconik. Login using the web browser, (the first time you do this it will ask whether you wish to accept panel as a new application, which you should accept) and then switch back to your application and you will be logged in with the Panel.
Alternative login
With the panel open you can login using your normal credentials by clicking on Email login:
Type in your email address.
Type in your password.
Click Sign In.
Navigating the panel
The panel uses a responsive design, when the panel is small it goes into a mode that allows more functionality to be squeezed into a restrictive size. When the panel is larger it will have the same format as the general iconik web interface.
Normal Interface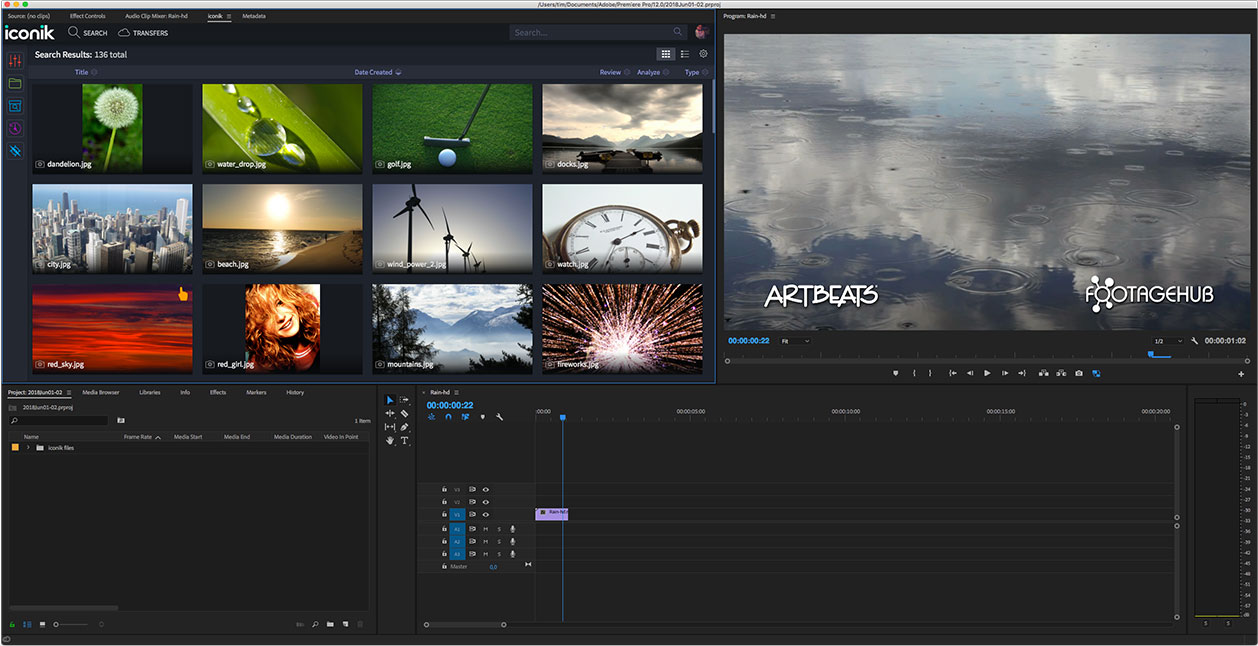 Small Interface
Configure working directory
Once you have logged in you can configure your working directory. This is where the iconik panel will create and download files.
See Working Directory for more information.
Opening an asset in iconik
With the panel open, and having logged in there are two ways of opening an asset in iconik:
Find the asset that you wish to use in the search or collection, and right click on the asset pod and select open.
If you are in the asset page, use the gearbox menu and select Open.
There is more information on open on the Downloading and Opening page.
Uploading an asset to iconik
With the panel open, and having logged in:
Navigate to the iconik search page.
Click on the gearbox menu.
Click upload.
There is more information on uploading on the Uploading using the iconik Panel page.
Opening a Web Browser for an asset
With the panel open, and having logged in:
Search for an asset
Right click on the Asset or Collection
Choose "Open In Web Browser"
Learn more