Panel Installation
There is one panel for all the Adobe Apps, and once installed it will be available to all your Adobe CC Products.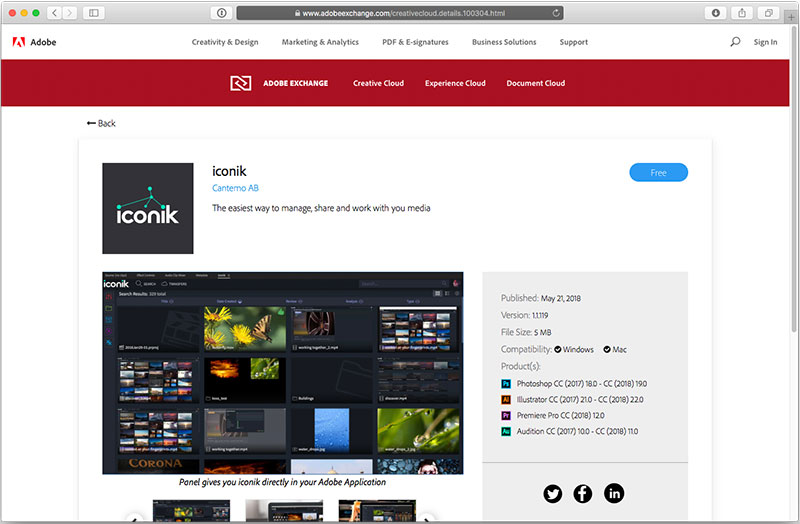 Installation from Adobe Creative Cloud
You can install the panel using your Adobe Creative Cloud account on Adobe Exchange.
Make sure that you have Adobe Creative Cloud, and the small helper app running.
Log in to Adobe Exchange.
Search for iconik and go to the search result or go to iconik on Adobe Exchange Page
Click on the free icon button.
It will be installed through Creative Cloud automatically.
If you have problems with installation please follow the steps for manual panel installation
Installation without Adobe Creative Cloud.
Please see Panel installation manually
Required Roles
If the user is a standard user, then you will need to make sure that they are in a group with the roles needed. These are the recommended roles:
Search - All (anything that mentions search!)
can create assets
can write assets
can read assets
can read asset subtitles
can read assets history
can write asset relations
can read asset relations
can delete asset relations
can write versions
can delete versions
can write approval request (if required)
can read approval request
can delete approval request (if required)
can read subscriptions
can read collections
can write collections
can read metadata views
can read metadata values
can write metadata values
can read metadata fields
can write metadata fields
can read metadata categories
can read segments
can read custom actions
can write keyframes
can create transcode jobs
can write formats
can create formats
can read formats
can write files
can read files
can read proxies
can read transfers
can read storages
can reindex assets
can create asset relations
web can view versions
web can upload
can read notifications
can read notification settings
Storage Setup
If you are uploading to the cloud from the panels you will need to make sure that the user's have the rights to upload to the storage that you are using. This is done by making sure the users are in a group that has right access ACL on that particular storage.
Updates to the panel.
We upload updates to the panel through the Adobe Exchange, however we have no control over when after we have done that you might see the latest version. If you installed manually then you need to download the panel when we do a release and install again.
Learn More